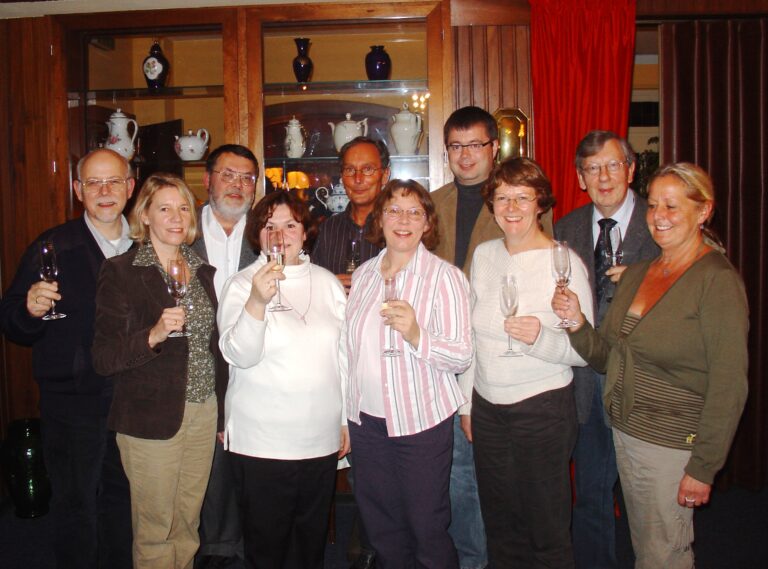 Formalities:

The Society of Former Obernkirchen Children's Choir
was founded on Nov. 10, 2007
on the initiative of Wolfgang Wicklein in Bückeburg. (see photo above)
Information:
Statute of Association
Old version – a new one is in the works and will be presented at the next ordinary general meeting.
Membership Registration (Registration with German SEPA)
Processing of the history
Front  –  Back
This work has already produced three public lectures, as well as this homepage with its many information and details.
All information is currently only available in German.
Will be changed soon.
The association Former Obernkirchen Children's Choir is a forum for all ex-singers as well as friends of the choir. It comprises the space of time from the year of its foundation 1948 until the present, thus all choir-generations under the conduct of all choir- masters.
The FOCC is represented by its executive committee. Up to now, there are two annual meetings for all members of the different choir-generations, the annual general assembly followed by a coffee-party, and a large-scale Whitsun reunion every third year.
In order to enable all choir-generations to feel to be part of the FOCC, time-periods have been formed tended by one member of the executive committee respectively.
The first one is the "Möller-era" from 1948 to 1975, the time of the choir's professional life headed by the founders and choir- leaders Edith Möller and Erna Pielsticker. Due to thousands of concerts at home and abroad, uncountable TV-appearances, shows, broadcasts, one cinema- and several TV-films, plus more than 50 records and compact discs, the choir was increasingly acknowledged.
Ceaselessly the choir went to nearly all important countries and became world-famous. Instigated by Wolfgang Wicklein, this group of members meets once or twice a year for a social gathering.
During the second time-period, there were several choir-leaders. Especially the time from 1980 to 1994 under Friedrich Wilhelm Tebbe is often thought of. At the same time, the choir had also been busy on different occasions. In addition to concerts, it produced TV-films and sound recordings. The members of the choir collected lasting impressions and broadened their mind. Singers from that time come together twice, three or four times a year on the invitation of Remon Sperr.
It remains to be awaited if there will be any interest in the third period, with regard to the recent past, and if anybody will be prepared to act as a representative in the executive committee.
Club chronicle to leaf through
To start the picture book (FlipBooks) click on the arrow on the right.
(Almost everything in German.)