Exerpt from Wolfgang Wicklein's lecture
"100 years Edith Möller":
Edith Möller's fascinating career is characterized by her eminent life work and the legendary successes. Being the founder and for many years the leader of the Obernkirchen Children's Choir, she brought the choir to the top of the musical world, a position it held for more than 20 years. And all this without "tradition", under her own steam and brilliance, by genuineness and cheerfulness, her social commitment and thanks to her compelling talent.
As a second child, Edith Möller was born on October 7, 1916 in Gelsenkirchen, Germany. Her mother Anna, née Wehling, came from Minden/Westphalia, and her father Wilhelm Möller from the county Schaumburg. At the age of six, Edith Möller started elementary school in Schalke, and afterwards she changed to Gertrud Bäumer secondary school (at that time a girls' school). Later she moved to the Gelsenkirchen grammar school.
Very quickly it became obvious that she and also her brother were musically highly gifted. Already at an early age Edith organized theatrical performances on stage and founded a singing circle. She loved her lute-group which she played in for many years. In addition, she was active in school sports and a sports club. She is said to have won prizes in throwing the javelin and in high-jump.
For financial reasons not both children could study music at conservatory. There were sufficient financial means for Friedrich Wilhelm only, who was five years Edith's senior. Since the musical way was not open for Edith, her social capability got going and should determine her further path through life. In the autumn of 1936 or 1937 she applied for a course of studies at the new academy for social professions in Gelsenkirchen in order to become a welfare worker. Her aim was to work with children and youths. During her entire training, practical works and special tutorial classes, Edith Möller could bring in her musical talent with notable success. It was there that she established her first choir.
In April 1941 Edith Möller was employed in a children's home in Nettelstedt and took over the management of a small children's home for inland waterway children in Bad Nenndorf just one and a half years later. It goes without saying that she sang with the kids , and quite quickly a new choir came into being. In this boarding school Edith Möller met her future professional partner Erna Pielsticker, who had been allocated to the boarding school for vocational training. Thanks to her talent in organizing, the children's choir soon was known and asked for in the vicinity. This cooperation resulted in a life-long friendship and like-minded partnership, that influenced the future development enormously. After the end of World War II the boarding school moved to Hessisch Oldendorf and was finally shut down in 1947.
Since Edith Möller`s parents and her sister-in law with her two children had been evacuated to Obernkirchen, it was reasonable for Edith Möller and Erna Pielsticker to stay in Obernkirchen, too, and to care for the town`s many refugee children on behalf of the youth welfare office. Soon Edith Möller`s work became more "musical". To the citizens` joy more and more children came to sing with guitar accompany. It was a stroke of luck that brother Friedrich Wilhelm, being a musician of the naval corps, also moved to his family in Obernkirchen after having been released from captivity.
Friedrich Wilhelm Möller played in orchestras. His main occupation however was performing with his own band in the British Sector. He wrote popular songs and dance music. Edith Möller often joined him as a singer. Friedrich Wilhelm also wrote the first songs on Edith`s lyrics for the children`s choir that became more and more active. On the advice of the youth welfare office and with the support of the British Military Administration, the choir called "Obernkirchener Stadtmusikanten" was founded in autumn 1948. The first officially promoted concert took place on March 24, 1949 in the "Deutsches Haus" in Obernkirchen. Rapidly the choir got known, gave concerts and undertook outings – something quite new in these days. The NWDR recorded the merrily appearing group for the first time in 1950.
In the meantime Edith`s brother composed comprehensive fairy-tale operas with his sister`s lyrics. The childrens` parents sewed uniform dresses, and the choir changed its name into "Schaumburger Märchensänger" in 1950. The" Obernkirchener Miracle" happened in 1950 when this choir as one of the first German children and youth groups after World War II travelled to England to a partner- choir for the duration of 14 days and gave concerts in Ipswich, Felixstowe, Cambridge and London! The English press and broadcasting stations were bursting with enthusiasm!
Work and success yet remained a wonderful extra. It was impossible to make a living of it, even when during the following two years some trips and concerts of several days` duration up to Cologne and two-weeks` leisure outing to Norderney took place. (What family was in a position to afford such a luxury in those times?) . Above all, the secret wish to set up an own orphanage was a long way off. In the beginning of 1953 Edith Möller and Erna Pielsticker, who had long since taken over the organization, were fully aware that one couldn`t go on as before.  The last planned activities, a trip to the Netherlands and a second England-tour, should still be carried out. Afterwards the choir-work had to be reduced for financial reasons.
The success of the first England-trip was excelled by far. There were a number of concerts in Southeast-England. After two weeks the choir continued to the LLangollen International Musical Eisteddfod in Wales, alledgedly on recommendation of the English Youth Officers. The children and youths not only won the first prize but especially the hearts of all participants and guests, as the author of this report was allowed to personally experience in 2013, 60 years later, following an invitation of the festival committee. The renowned poet Dylan Thomas, who had led through the contests, baptized the choir-girls "Angels in Pigtails". Success and enthusiasm were immense. The tour had to be prolonged because a number of spontaneous requests for concerts, besides others from Rugby, Birmingham and Coventry, were met.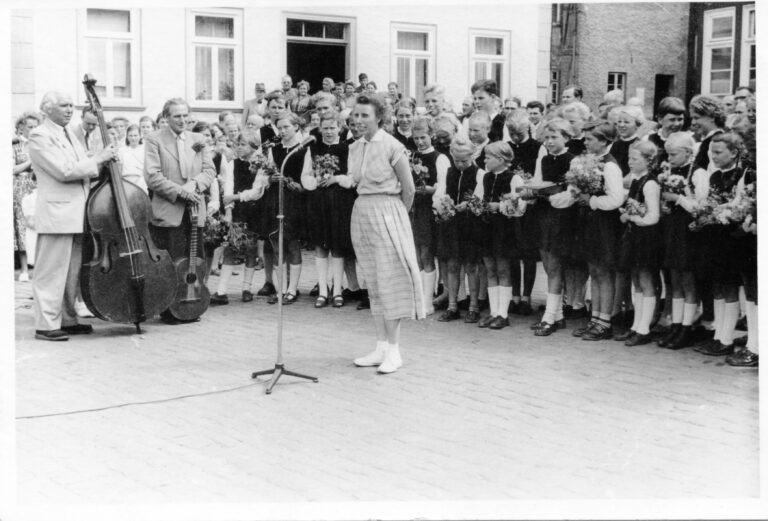 Falsely this competition was again and again called the turning-point for the Schaumburger Märchensänger. Especially as a world – hit had been born by mere lucky chance on one of the many festival meadows. The BBC recorded a song composed by Friedrich Wilhelm Möller that within three days all the English-speaking , and later the whole world knew and loved: "The Happy Wanderer" (Der fröhliche Wanderer – Mein Vater war ein Wandersmann), sung in German. This was not the turning-point for the choir, but it caused Edith Möller not to give up.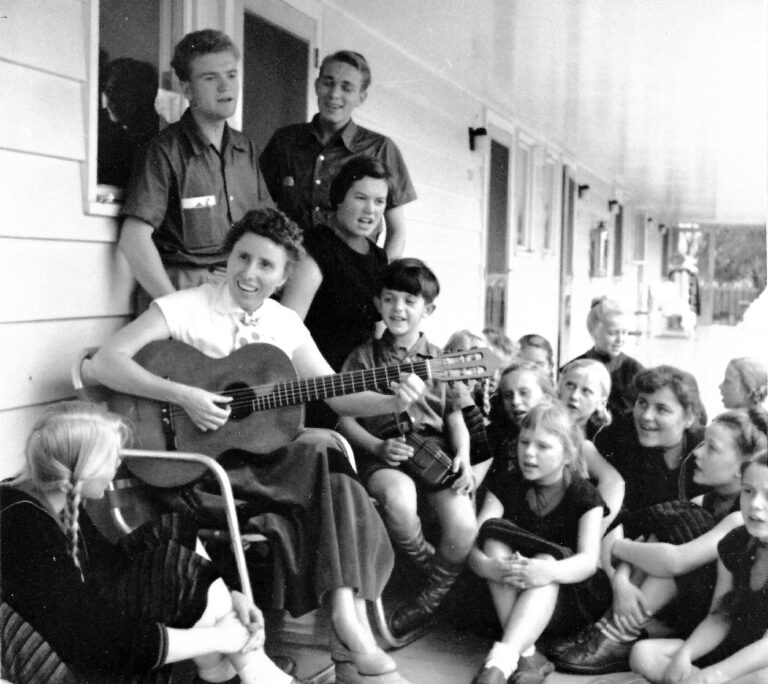 Already in the autumn of 1953 Erna Pielsticker travelled to London, went to the most important English concert-agency of that time, and managed to obtain a two-week's concert-tour throughout England for the spring of 1954: Schaumburger Märchensänger's first professional tour! There was a sold-out concert every evening, including the Royal Festival Hall in London. In the mornings studio-, record-, radio- and TV-recordings took place, no leisure time, all the time in a shaky bus – a real hard time. The "Schaumburger Märchensänger" – unpronounceable in English- conquered England by storm for the third time, this time on a professional level.
Thanks to Edith Möller's inspiring guidance, the children easily coped with these enormous efforts and extreme performances. Her incomparable talent to inspire the choir -above all on stage- to maximum efficiency was a guarantee for success. Her enthusiasm and her flair were added. The children would have loved to continue, to go further and further. Nothing was too much for them!
And anyway, there never could be enough singing.
Edith Möller wore herself out on this tour, and maybe without her partner Erna Pielsticker everything could have turned out badly. The aim – the turning-point in the history of the Schaumburger Märchensänger – was reached. Edith Möller and her choir were professionals.
The English concert agency was overwhelmed by this success and accepted the offer of the most famous and biggest artists` agency, Columbia Artists Management in New York, in order to bring about a better perspective for the choir. Already in the autumn of that year the Obernkirchen Children`s Choir (the new English name) went to America for six weeks. The success was breathtaking!
Columbia provided for a pianist, James Benner, university professor at the music academy in Morgantown, West Virginia, who was to accompany the choir at most important concerts. Quickly he fell in love with the choir, and he was in raptures with Edith Möller`s musicality. Up to 1968 he was the constant accompanist on all world- tours. As far as known, a risky concert was assigned for in the most important hall of that time, the Town Hall. Alledgedly a German orchestra had been booed there the previous year. Within the following three days four more concerts were added without any advertising, all of them were sold out, crowds of people queued.
Columbia was in raptures with the choir`s performance. The first tour took six weeks with over 30 sold-out concerts. The immediately planned second tour for the following year 1955 was already completely sold on the day of departure, so that still on the airport, the tour was lengthened for three more months. As all subsequent tours this one, too, was a major success. With the earnings of those two America-tours and the stipulated options for two more travels, Edith Möller and Erna Pielsticker were able to rent and later buy in 1956 an old grand villa for the newly founded association Schaumburger Märchensänger e.V. Nowadays it houses the school of music. The mayor of Bückeburg, Helmut Preul, later officially changed the name into "Edith Möller House". It was here that finally the yearned for children's home was established, led by Edith Möller and Erna Pielsticker. More than 30 children grew up there in the course of time.
After 1955, 11 more America-tours under Edith Möller followed, each one of three months' duration, with more than 800 concerts in the USA alone. Other travels to the Middle and Far East, South Africa, South America, within Europe and especially Germany are uncounted, and not included are:
– encounters with celebrities, such as John F. Kennedy, Willy Brandt, the King of Sweden, Walt Disney, Wernher von Braun, Princess Aduldej of Thailand, Eleanor Roosevelt and several presidents of many countries.
– performances, e.g. in the always sold-out Sportpalast in Berlin, singing in front of the full assembly of the UNO in New York, and as a high-light President Nixon's invitation to the White House
– uncountable TV-shootings and recordings, including the Berolin motion picture "The Happy Wanderer" with Rudolf Schock
– many honorary citizenships and infinite tokens of esteem by universities and colleges – inclusive of the German Federal Order of Merit- etc.
Edith Möller died on July 10, 1975 at the age of 58. Her fascinating path through life, however, her legendary, outstanding successes, her wonderful yet demanding and extremely busy life, her genius and her personality must not be forgotten.